Vol. 63 No. 2 (2022): Silliman Journal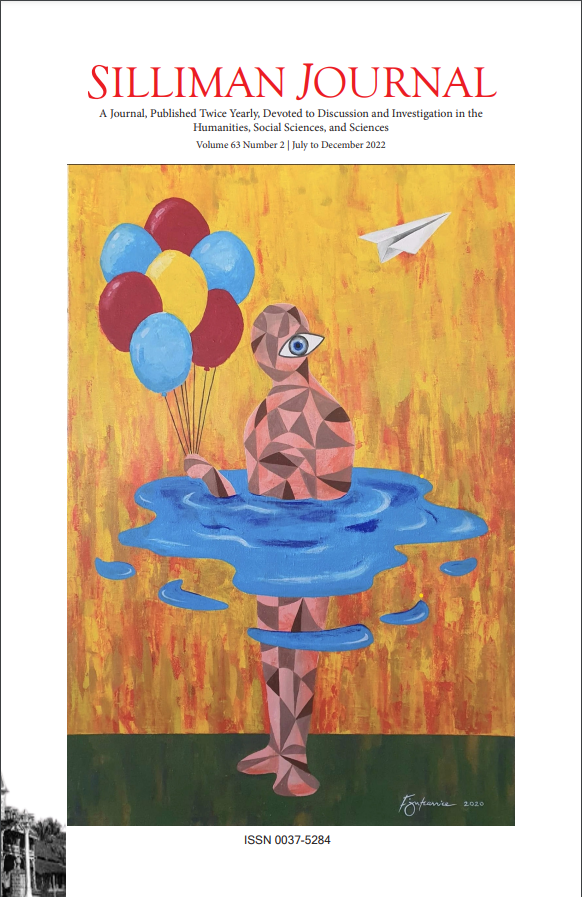 Research is always driven by curiosity and the perennial need to revise knowledge. Hence, a good investigation is prompted by queries whose answers are too good not to be shared. For many years, the Silliman Journal has been an avenue for scholars to publicize their findings and spark intelligent discourses about them. Welcome to the second issue of Silliman University's official multidisciplinary journal!
In this issue, seven research articles are featured. The first three articles relate to the three important components of any academic institution: Instruction, Research, and Extension. They are followed by a visual reading of COVID-19 posters and two articles examining the effects of government and non-government organizations' activities. The last article in Filipino delves into one of the leading causes of death globally.
In her article, Beulah Rose R. Torres explores the quality of the culture of a Philippine private higher education institution by looking into its accreditation-related activities. By designing a qualitative study that banks on a self-study method, Torres provides an opportunity for academic leaders to reflect on their practices in preparing for site visits of accreditors.
Noticing a gap in research management in basic education, Karl Erickson Ebora investigates teacher/research coordinators' perceptions of the role, functions, and responsibilities of schoollevel research committee (SRC), which is absent in the Research Management Guidelines (RMG) of the Department of Education. His findings provide a basis for developing a policy note justifying the importance of SRC in the research management cycle; thus, it has to be included in the Department of Education's RMG. Extension is an essential component of education. Considered learner-centered, it allows the enrichment of learning by immersing students in a different learning culture outside of school.
In their article, Emmanuel M. Preña and Cherrylyn P. Labayo share how Kirkpatrick's Evaluation Model can be used to evaluate a higher education institution's teachers' training extension program. When the COVID-19 pandemic started, the Department of Health released a number of posters. In their article, Joseph E. Padilla and Corazon A. Padilla demonstrate a multimodal discourse analysis of selected COVID-19 Vaccination Campaign posters. Using Kress and Van Leeuwen's Grammar of Visual Design (2006), they explore the meaning potential of the chosen texts.
Jan Antoni A. Credo's article acknowledges the role of civic society organizations. In his paper, the co-production approach is used to examine how PAGBAG-O might reduce poverty by providing end users and customers with better public services.
In their paper, John Jonas F. Castuciano, Rheniel Dayrit, and Rodelio F. Subade acknowledge the value of creating marine protected areas (MPAs) to preserve marine biodiversity and solve the diminishing marine resources. They further attempted to determine the MPA's economic benefits and costs in a locality in the Philippines. The last full article is a qualitative study by Cheyene Franchesca M. Go, Francis Roy S. Gonzales, Millena Maia T. Gonzales, Sweetheart Angela C. Gonzales, Mari Anne Estefani G. Guerra, Joyce Anne Marie F. Guerrero, J-Ross E. Guillermo, Nelsie Faith M. Gumapos, and Ian Mark P. Nibalvos. In the paper, they further explore the concept of high blood by examining its meaning and etymology, among others.
In addition to these seven articles is a brief article on Silliman University's efforts to sustain community extension programs amidst the COVID-19 pandemic. Novee E. Maestrecampo Jr. shares Silliman's creative and innovative ways to keep the program afloat.
The cover art for this issue is courtesy of the visual artist and poet F. Jordan Carnice, a creative writing graduate of Silliman University's Department of English and Literature. As a visual artist, Carnice has joined many exhibitions that showcased his works dealing with sexuality and environmental and societal concerns. As a writer, his works have appeared in local, national, and international publications.
The artwork in this issue is called "Good Vibes in the Time of Drowning. The following is the artist's statement: It is no secret that climate change continues to affect communities and entire ecosystems in this world, worsening day after day, that it has been appropriately called the climate crisis. What is initially a negligible concern from several years past is, more than ever, now a highly irreversible end game for everything on the face of this planet. Unfortunately, we are only doing so little, even if we are losing so much. Many massive corporations, world leaders, and other influential individuals who have real power to do actual change seemingly treat this issue as a placeholder for public support to only progress themselves and not the environment. In short, the earth and the last of us are drowning in more ways than one. The artwork hopes to imagine that panic, rage, even grief, and mourning, even in the middle of man's constant desire for comfort and merrymaking, could be essential in forming solutions that push for immediate action.
Full Issue